Risk of conflict with Iranian-backed group given fresh impetus by Israeli, Saudi Arabian and US rhetoric against Tehran
Saturday 11 November 2017 – Peter Beaumont in Jerusalem – www.theguardian
Israel's political and military leadership appears to have concluded that a conflict with Lebanon's Hezbollah is becoming increasingly likely, despite months of growing warnings that a third Lebanese war would be more dangerous and deadly than the last war in 2006.
The mounting tensions on the northern border with Syria and Lebanon have increased in recent months as Israel has recognised its assumption that Hezbollah– a key ally fighting with the Assad regime – would be chewed up in a protracted Syrian conflict is badly mistaken as the war has turned rapidly in Bashar al-Assad's favour.
Instead the Iranian-backed group appears to be emerging from the Syrian war as a battle-hardened and largely conventional military force whose missiles have been heavily resupplied by Tehran despite dozens of Israeli airstrikes on convoys and depots.
Amid threats by Israel's prime minister, Benjamin Netanyahu, that Israel would intervene rather than allow Iran or Iranian-backed groups to establish themselves on Israel's border, the sense of growing risk of conflict has been given added impetus in the recent convergence of Israeli, Saudi Arabian and US rhetoric against Iran.
In Israel, however, the talk of war with Hezbollah has escalated. with top military and political figures detailing the probable shape of a future conflict, and Israel's then air force chief suggesting that Lebanon could be subjected to a huge aerial bombardment in the opening days of a campaign with civilian casualties highly probable.
"If a war breaks out in the northern arena we need to act with full force from the beginning," Israel's outgoing air force commander, Maj Gen Amir Eshel, told the Herzliya conference in June shortly before stepping down.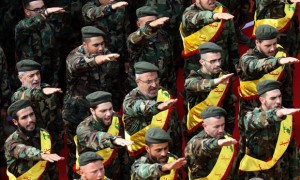 contunued- www.theguardian.com/world/2017/nov/11/israel-leadership-talks-up-another-war-with-hezbollah-lebanon
95 Total Views
1 Views Today